Marx Battery Operated Trestle Train Set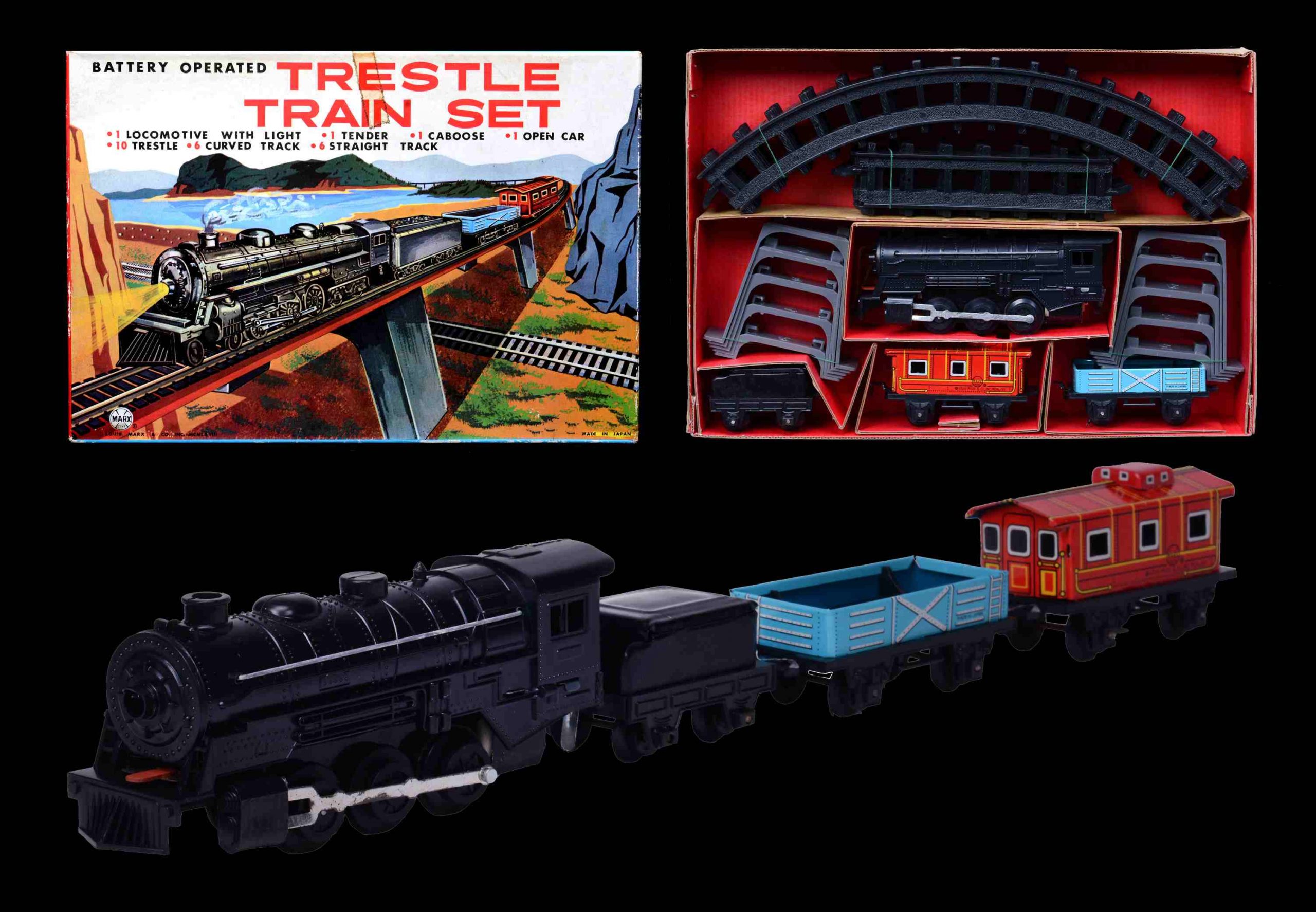 As a youngster I was always active, as was any kid back in the day. We had great imaginations and never lacked for something to do. I grew up inheriting many great toys from my father and my uncle. One of the reasons for this is my grandmother had once worked for Marx Toys.
Marx Toys was an American toy manufacturer that created great, durable toys that lasted for a long time. The company was founded by Louis Marx & his brother David and it operated for 61 years, from 1919 up until 1980. They were the most well-known toy company through most of the 20th century.
Marx Toys made it all: tin plate toys, which included buildings and soldiers, Playsets, dinosaurs, dolls & dollhouses, cars, trucks, construction toys, trains in HO & O scale, toy guns, action figures and more! Some of the more recognizable Marx toys were the Big Wheel and Rock 'Em Sock 'Em Robots, which still bring a premium price for original 1960's versions.
Playsets were all inclusive toys self-contained in suitcase like travel boxes that could be set up anywhere. These included crossovers from TV such as Davy Crocket, Gunsmoke, Wagon Train, Battle of the Blue & the Grey, Robin Hood, Tom Corbett Fort Apache, Ben Hur and more. A bit of imagination and you had hours of entertainment. Living on the Space Coast, I made sure to find the NASA Cape Canaveral Playset. These playsets were very popular and still are today. There are many reproductions still available for sale without the high prices of an original.
The toy you see here is the Marx Battery Operated Trestle Train Set. The box features their slogan "One of the many Marx Toys, do you have all of them?" The set consists of one locomotive with light, one tender, one caboose, one open car, ten trestles, six curved track sections, and six straight track sections.
The locomotive and train cars are a mix of plastic and tin with lithograph printing. The track is plastic as are the trestles. Mark was a very early adopter of plastic for making toys. Today factory errors and mis-formed plastic toys are ground back up into raw material and recycled at the factory. I can remember my father and uncle telling me Marx used to just toss these rejects in the dumpster and haul them off to the dump and they would go and dig up these factory second toys to play with even though Marx Toys were some of the most affordable toys available.
The train set is mint in the box and has probably never been played with. Marx Toys featured some of the best box and cover art around and this set is no exception. Marx employed many great artists over the years and vintage original box art proof sheets are amazing to see.
Even though this carries the Marx logo, this set was actually made in Japan. Marx produced a line of toys made in Japan called Linemar Toys. This was a strategy used to keep costs down. The toys were made in Japan and sold in the US and around the world. Labor costs were usually the reason for this business practice.
There have been a few Marx Toys Museums, over the years, but due to economic reasons of not being able to produce enough revenue, they have all closed down. This is interesting as there are still Marx toys being produced today, albeit under different owners and names. New versions of Big Wheels and Rock 'Em Sock 'Em Robots are still found on the shelves of toys stores and many Marx train car molds are still being used to produce rolling stock.
Having grown up with many Marx Toys, I have a soft spot for them and if you look them up on sites like eBay, you will see many other collectors do too! With so many different types of toys, Marx Toys make a great collecting hobby.
Published Vintage Finds Magazine – Online Edition 4/16/2020