Covid update: October 2021

Five Katz Antiques has relaxed our policy requiring a face mask/covering for entry into our store. If you are vaccinated you are no longer required to wear a facemask. (We hope you will regardless.) Note: this policy is subject to change in the event of another surge or variant.

If you are unvaccinated, please continue to wear a mask while in the store.

This policy is posted on the front door

.
We also ask that you continue to maintain social distancing as much as possible and refrain from handling things needlessly.
In order to help keep everyone safe, we are also wearing our mask while you are visiting and we are cleaning common surfaces regularly. If you have any questions, feel free to ask.
I understand that it is people's right to choose whether to wear a mask or not, but I urge everyone to do so. If people are unvaccinated and refuse to wear a mask, it risks everyone's health that they come in contact with. I prefer that those who are unvaccinated not risk mine, my families, or my other clients health by not wearing a mask.

If you have to lie to not wear a mask, I prefer you don't visit the store until the pandemic has been declared over. We surely want to have you drop in, but we don't want anyone to get sick because you lied about being vaccinated or had symptoms and were diagnosed with covid19.

Thanks for your support.

| | |
| --- | --- |
| Mon: | 10:00 am – 4:00 pm |
| Wed: | 10:00 am – 4:00 pm |
| Fri: | 10:00 am – 4:00 pm |
| Sat: | 10:00 am – 4:00 pm |
Tuesday – Thursday – Sunday – Closed
Address: 4509 S. Hopkins Avenue, Titusville, Florida 32780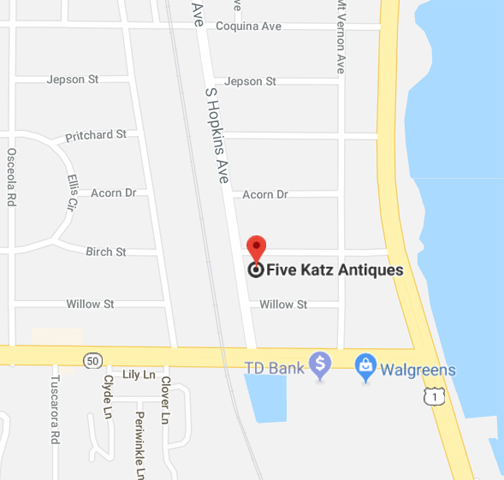 Phone: 321-567-2505
Please note: Tuesdays, Thursdays and Sundays are our days off. Sometimes we are working on or in the store after hours or when it is closed. Please refrain from asking to be let in on these days. We are happy that you dropped by, but we are not set up for sales on these days. We will be happy to do our best to serve you during our regular hours.

Thank you.