Welcome to our Frequently Asked Questions page.
Five Katz Antiques' retail location is now closed. The below information is retained for historical purposes only. There is a possibility that we may transition this site to a sales platform in the future. Please check our blog for updates. Thank you.
When was Five Katz Antiques established?
Five Katz Antiques was opened June 15th, 2015, and closed on June 18th, 2022. We celebrated our 7th anniversary just prior to our closing.
Who owns Five Katz Antiques?
Five Katz Antiques is owned by & operated by Ed Kindle
Does Five Katz Antiques sell online?
We do not sell online. Most online sites do little to support their sellers. In addition, we just don't have the time, and we don't have the room to store all the packing materials. If we were to offer our items online, they wouldn't be available for you at our store.
Does Five Katz Antiques sell at antique shows?
No, we do not travel to offsite locations for sales. This is not covered by our insurance policy and items can become damaged during transport. In addition this would take away from our retail showroom hours.
Do you deliver?
Five Katz Antiques does not deliver. This is due to insurance & liability concerns. If purchasing a large item, please bring a suitable vehicle, proper equipment (blankets/straps/etc) and enough manpower to load your items. We will be careful, but we accept no responsibility for damage to your item or vehicle during loading if you ask us for assistance.
What payment methods do you accept?
Five Katz Antiques uses Square to process our payments. We will happily accept your debit or credit cards with proper photo id regardless of company (VISA, Master Card, American Express, Discover Card or any other) as long as it is accepted by Square. We do not require a minimum purchase (we hate that) to use your card. Of course cash always works too. Sorry we do not accept checks of any kind.
Do you offer refunds?
Five Katz Antiques does not offer refunds. We strive to offer the best antique and vintage merchandise we can, however due to the very nature of that merchandise, flaws may be present. We encourage you to take the necessary time to examine your purchases as all sales are final.
What is your privacy policy?
Five Katz Antiques does not collect any personal data or credit card info for any reason. We do not collect email addresses or send spam. We will only email or call you upon a specific request.
Do you operate security cameras in your store?
Yes, we have closed circuit cameras inside & outside of our store to assist in crime prevention & loss. This policy is posted on our window and by entering you consent to such filming. We do not retain footage for any longer than necessary.
I am a dealer; can I get a dealer discount?
Five Katz Antiques does not offer "dealer discounts" as we feel this process is unfair to our regular customers and non-dealers. We like to use discounts to reward our regular customers and by offering blanket dealer discounts takes this option away from us.
I am a dealer; do I have to pay tax at Five Katz Antiques?
Yes. Florida department of Revenue does not accept out of state sales tax exemption forms. We also do not accept Florida exemption forms due to the increased accounting they require and past customer misuse.
If I pay cash, will you "eat the tax"?
No, sorry. We report all sales to the Florida Department of Revenue. We must remit the mandated 7% sales tax to the state on every sale. Note: Brevard County charges an additional 1% sales tax for the Lagoon Restoration fund and the school district which brings the total to 7%.
Do you haggle or are your prices firm?
We try to price our items as fairly as possible – We research using several online sources, as well as relying on our experience. Please understand we have a financial investment in each item in the store & we need to make a profit on each item. The marked price also includes things such as travel time, cleaning & prep and research time.
We don't mind a small amount of haggling, but please respect our time and energies. If you make an offer on an item, please be reasonable. If we make you a special offer, we do hope you will accept it that day. Special discounts or offers are good for that day and time only.
Do you sell reproductions?
We do our best to present our customers with quality antiques & vintage items & to label our items as honestly as possible. If we know an item is a reproduction or reissue, we will tell you. If we honestly don't know, we will tell you that too.
Do you buy antiques? – We are no longer purchasing items due to the closure of our retail location.

Yes, of course, however there are conditions.
We need to purchase items at a wholesale pricing structure so as to be able to make a profit on the item.
We can't pay for sentimental or emotional attachments.
Just because you "saw it for a certain amount on eBay", we don't match online prices. eBay and online auction sites are retail (or more) prices and all markets differ. The internet is a worldwide market, our store is in Titusville.
There are some things we just don't purchase because in our experience they just don't sell well for us. In addition, we have to like it or find it interesting. It has to have some merit and "fit our vibe". Sometimes we don't purchase items because we just don't know anything about them. A list of things we don't purchase may be found below.
For single items or small lots, we try to pay cash, but for large lots we will usually write a store check.
We do not purchase entire households. We try not to buy more than we can fit into our retail location. We just don't have the storage.
Everyone selling to Five Katz Antiques must provide a valid state issued photo ID with current address. We must notate this for our records. If we find an item that was sold to us has been identified as having been stolen, we will cooperate completely with law enforcement.
Do you accept consignments?
No. We do not wish to be responsible for possible loss or damage to items we do not own.
Do you have multiple dealers/vendors?
No. We do not have multiple dealers. We are the only vendor and we own everything in the store.
Will you travel to view my items, or do I need to bring them to you?

We will happily travel within our local area to view your items, or you may bring them to us at the store. You may also email us good clear photos to us and we can let you know if your items are of interest to us before loading everything up in the car. Please note, we cannot justify the travel of long distances to view just one item.
May I email you photos of my items?

Yes, however please call first. Send one photo of each group of items or each large item to start. If it is an item I am interested in, we can discuss it further at that point. If I would like more photos, I will let you know. Please size photos appropriately and please don't send large MB files, generally under or around 500KB is fine. (I have limited storage space on the server) You can send photos to antiques@fivekatzantiques.com
Can I text you photos?

No, I am sorry. I do not have a cell phone attached to the store. I made this decision deliberately as I did not wish to receive calls and have to conduct business on my personal time. In addition, it would have generated an additional expense for the store.
Items that Five Katz Antiques generally does not buy.
There may be exceptions at times, but this is a general listing and may be revised at my discretion at any time. Buying is also seasonal at times and may also be limited due to space availability and cash flow.
We do not buy…
Coins, stamps, rocking chairs, hope chests, silver plate items, china sets, clear glass, vintage clothing, painted furniture, Nazi or racially insensitive items, newspapers, magazines, beer & alcohol signs, dining room sets, china cabinets, bedroom sets/beds, upholstered chairs, dolls, steamer trunks, coat racks, Nascar items, Hummels, Avon items, beer steins, pianos/organs, pop/beer bottles/cans, 45 rpm records, ironing boards, pool & billiard tables, sporting goods and sporting themed items, baseball and similar trading cards, collector plates, grandfather clocks, coffee tables & tea carts. We also generally do not buy most collectible items that were made in the millions such as Boyd's Bears, Beanie Babies or collectible or commemorative plates.
We do not buy regulated or banned items such as ivory or sea turtle shells. We also do not trade in items that are regulated wildlife species. Possession of a feather from an American Bald Eagle could net you up to a $10,000 fine (and a possible arrest/jail sentence) regardless of how it came into your possession.
We also cannot buy anything that has been engraved with someone's name and/or social security number, nor do we buy items that have had the serial number scratched off/destroyed.
We cannot purchase items that have mildew, mold or nicotine/smoke damage, broken items or items with missing parts/pieces.
Our insurance company prohibits us from selling cribs, high chairs and strollers due to liability reasons.
Also, if it's too large for me to move it alone, I can't purchase it.
In addition, if something just doesn't feel kosher, or we get a weird vibe about something, we will not proceed with a purchase.
We have an upcoming event and need items for display. Can you accommodate us?
We are sorry, but no. We do not loan/rent items as they can be lost or damaged and become unsaleable.
Do you allow service animals?
Five Katz Antiques has a NO pets policy.
Service animals are working animals, not pets. The work or task a dog has been trained to provide must be directly related to the person's disability. Dogs (or other animals) whose sole function is to provide comfort or emotional support do not qualify as service animals under the ADA. Under the ADA, service animals must be harnessed, leashed, or tethered unless these devices interfere with the service animals work. NOTE: Per the ADA dogs are the ONLY animal that has designation as a service animal. https://www.ada.gov/service_animals_2010.htm
So, yes, registered service animals are welcome – however due to insurance and liability reasons, pets and/or emotional support animals are not permitted. We appreciate your compliance to this policy.
Can we take photos in the store?
We don't mind the occasional snap of a photo if you need to think about an item, or to remind you to return later to buy it, and we don't mind a quick photo so send to someone you think may be interested in one of our items, but please no extended photo projects and no videos. We are not huge fans of YouTube and other social media websites and prefer our items and content not be reproduced in quantity on those websites. Thanks for understanding.
Are you wheelchair accessible?
Yes, but there is a slight curb. We have a small portable ramp that can be deployed to accommodate a wheelchair or power chair. We also try to make sure our aisles are wide enough as well.
Do you do appraisals?
I am sorry but at this time we do not do appraisals. There are several reasons to have an appraisal done. Insurance value, personal knowledge, property division and selling value. A good appraiser will be licensed or certified by an organization such as the International Society of Appraisers. An appraisal in it's most simple terms is an opinion. This opinion will be dependent on the appraiser's experience, expertise, and knowledge of the items being appraised. Also a good appraisal to be unbiased, should be performed by someone who has no financial interest in the item being appraised. Beware of online appraisals as they can be inaccurate and not take all factors in consideration. Appraisals are a service you will have to pay for and to get a truly good sense of your items worth, you should get up to three. Remember, just because someone owns an antique booth, antique store, sells online or is an auctioneer, they may not be a certified appraiser.
We need a speaker for our group – are you available?
I have in the past, provided presentations to various service organizations and groups, however I have had to change my policies for this service. Previously I provided this service for free, but can no longer do so. Due to the costs involved; fuel, the time necessary to create a presentation/talk, the limited time options available (I do not close the store for this service) & the expense of my audio/visual equipment, I now charge a fee for this service. This fee is determined by the lead time, the location of the event and the amount of preparation required to create a presentation/talk/slide show. This fee starts at $300 and I charge an hourly rate for creation of a powerpoint slide show & mileage. There are also other considerations due to covid19.
Where else can I find information about Five Katz Antiques on the internet and social media?
In addition to this website, there is a link to our Twitter page on our site in various places. We do not use other social media sites anymore due to their privacy policies, lack of control of our content, user abuse and fees for posting/ads. We also do not use any site that in only based on a mobile platform since the store does not have a cell phone attached to it. We do show up easily with an internet search using google or Duck Duck Go (our favorite as they don't track you).
In addition, we write a bi-monthly column for "Vintage Finds Magazine", have been published in the "The Wayback Times" in Hastings Ontario, Canada, "The Country Register" newspaper in nearly a dozen states, "The Florida Register" newspaper, "MSN News Network" online and in the "Florida Today" newspaper & website. You can read all our articles by clicking on the Blog tab at the top of this page.
We really liked your store. Where can we leave a review of Five Katz Antiques?
We love getting great reviews here at Five Katz Antiques. It tells us we are doing things right. We are registered with sites such as Travelocity, Angie's List and Yellowbook as well as Google (We have deleted our google business page, but reviews still show up). Feel free to leave your review with your favorite. If we messed up somehow, and you want to let us know, please leave us a comment with the "contact us" form on this site, or email us at antiques@fivekatzantiques.com and we will do our best to make it right. Of course you can always call or stop by as well.
In addition to this, We are excited to say we are #16 out of 20 things to do in Titusville, Florida as rated by Tripadvisor.com
History and experience
I am a retired freelance and art photographer with over thirty years of experience. I trained at Edinboro University of Pennsylvania and am a past certified Professional photographer. Photographic experience includes weddings, high school seniors, pets, family and individual portraits.As well as day to day photography I enjoy teaching and have taught various classes and seminars. This includes Edinboro University's Summer Academy Program and Brevard Community College's Full Circle Program. I also teach a private adult class from time to time.I am a past member of Senior Photographers International, Professional Photographers of America and Triangle Photographers Association with awards, merits and ribbons from the above organizations, I have also met and studied with world class photographers.Not only have I been a photographer for over 30 years, but I have also worked in other aspects of photography including set design and also sales of cameras and studio equipment for amateurs and professionals alike.I have been buying and selling antiques in some capacity for nearly 30 years. I am a cancer survivor of over 15 years and since moving to the Space Coast I have been involved in many charitable and civic organizations.
Past president of The Historical Society of North Brevard
Charter member & past president of The North Brevard Lions Club
Former Brevard County Historical Commissioner
Past President of The Air America Foundation
Former board member Titusville Chamber of Commerce
Former volunteer of The Space Walk of Fame Foundation & The Valiant Air Command
I have also been the recipient of the Titusville Community Service award in honor of Reverend Harry R. Lee in 2011.
Last one – Where did you come up with the name Five Katz Antiques?
I used to collect antique advertising tins of all sorts. I found this popcorn box from a vending machine and thought how remarkable it was because it was just the sort of item that would have been discarded. The fact that it was still around sort of spoke to me, plus I like and have owned many cats. I have kept it for over 30 years now and when I needed to create a name for the store the fact that we had five feral rescues at the time came into play and I remembered this box and the way Katz was spelled. I put it together and history was made.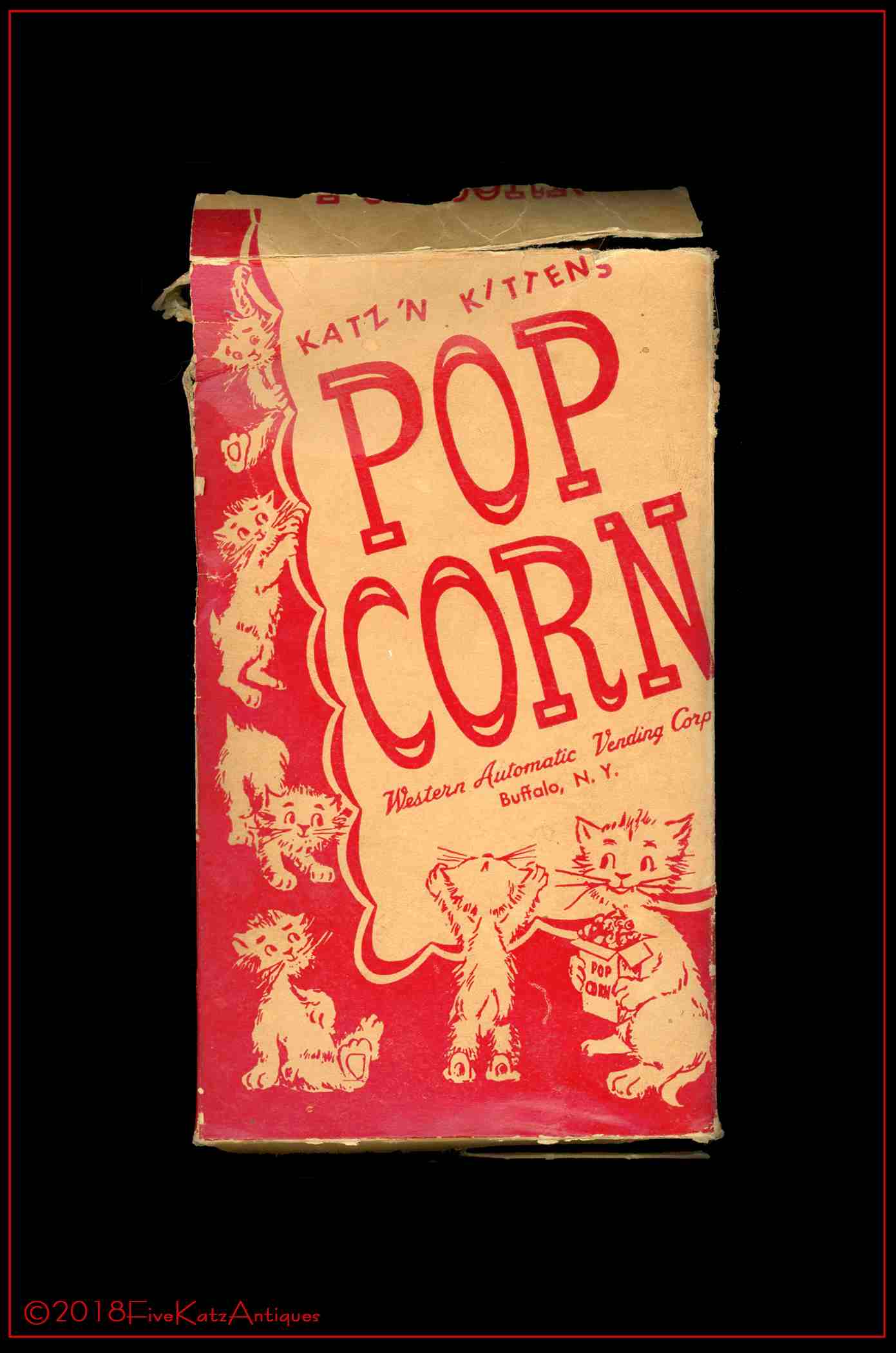 Thank you for reading our Frequently Asked Questions section.
We hope this has answered any questions you may have had, but if not, please feel free to use the contact form by following the link above to drop us an email, or feel free to us call during regular business hours.