Joep Nicolas – Stained Glass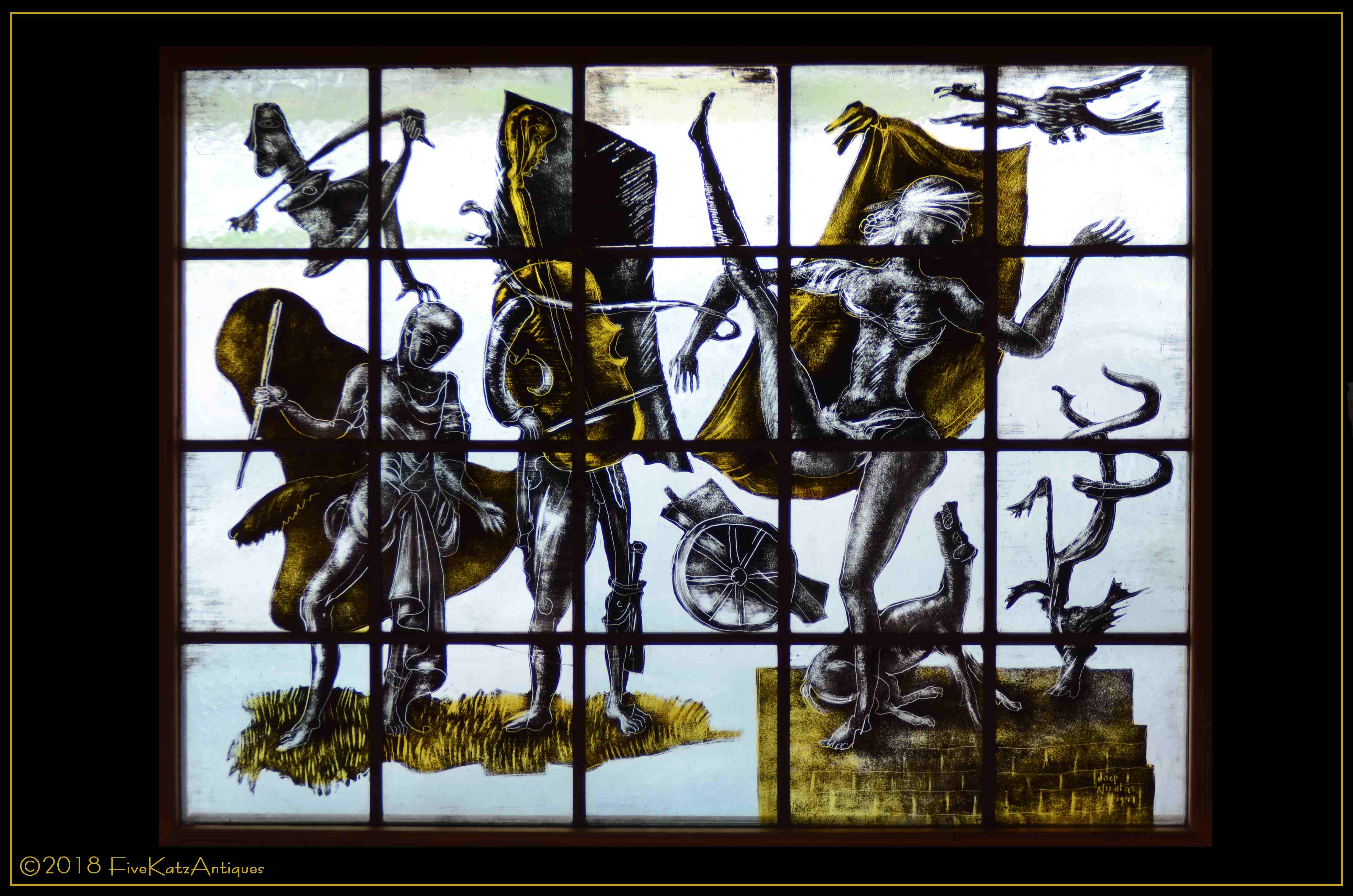 Joep Nicolas (1897-1972), a third-generation stained-glass artist, was born in the Netherlands. In 1855, his grandfather, Frans Nicolas (1826-1894), established the Nicolas Studio in Roermond, Holland in order to meet the building boom following that country's restoration of the Catholic Church. A window by Frans Nicolas can be seen in Philadelphia's Samuel S. Fleischer Art Memorial, formerly the Episcopal Church of the Evangelist.
In 1925, Nicolas received his first in a long line of awards for work in stained glass, for a panel of "St. Martin of Tours Dividing his Cloak" created for the 1925 Paris Exposition Internationale des Arts Décoratifs et Industriels Modernes. In December 1939 the impending war prompted Nicolas to move with his family to New York City, where a few months later, an exhibit of his work in Orrefors Galleries was reviewed with great acclaim. In 1941, he began to free-lance for Rambusch Decorating Company, and by the late 1950s when Nicolas returned to Holland, he had fulfilled commissions throughout the United States. His daughter and grandson, stained-glass artists Sylvia and Diego Semprum Nicolas, continue the family tradition.
Nicholas' manner of working was distinctive. He would paint directly on the glass without relying on the traditional cartoon to guide him, and thus his finished windows convey the spontaneity often found only in an artist's sketch.  While employed by Rambusch Decorating Company, Nicholas created several windows for the [Philadelphia] archdiocesan church of Resurrection of Our Lord, Chester (1911-1993). He signed these windows in Latin, one with the following inscription:
"Hanc Tabulam/ Vitream ceteras Que/ Positas Hisce in Aedibus/ Rambusch Sub Nomine/ Ego Joep Nicolas/ Master Vitrearivs/ Batavus Magna ARTE/ Delineavi/ Novae Eboricae/ Anno di MCMIL."
Translated – "This tablet / glass, and other calamities / positus in these buildings / Rambusch under the name / I Joep Nicolas / Master Vitrearivs / Dutchman with great skill / delineavit / New Eborici / year MCMIL gods."
The Chester church windows are now in St. Joseph's University Collection.
Joep's daughter is Claire Nicolas White, the American poet, novelist and translator of Dutch literature. She is also the niece of Aldous Huxley & granddaughter–in–law of architect Stanford White.
This item may be viewed in person at Five Katz Antiques