Introduction to Photography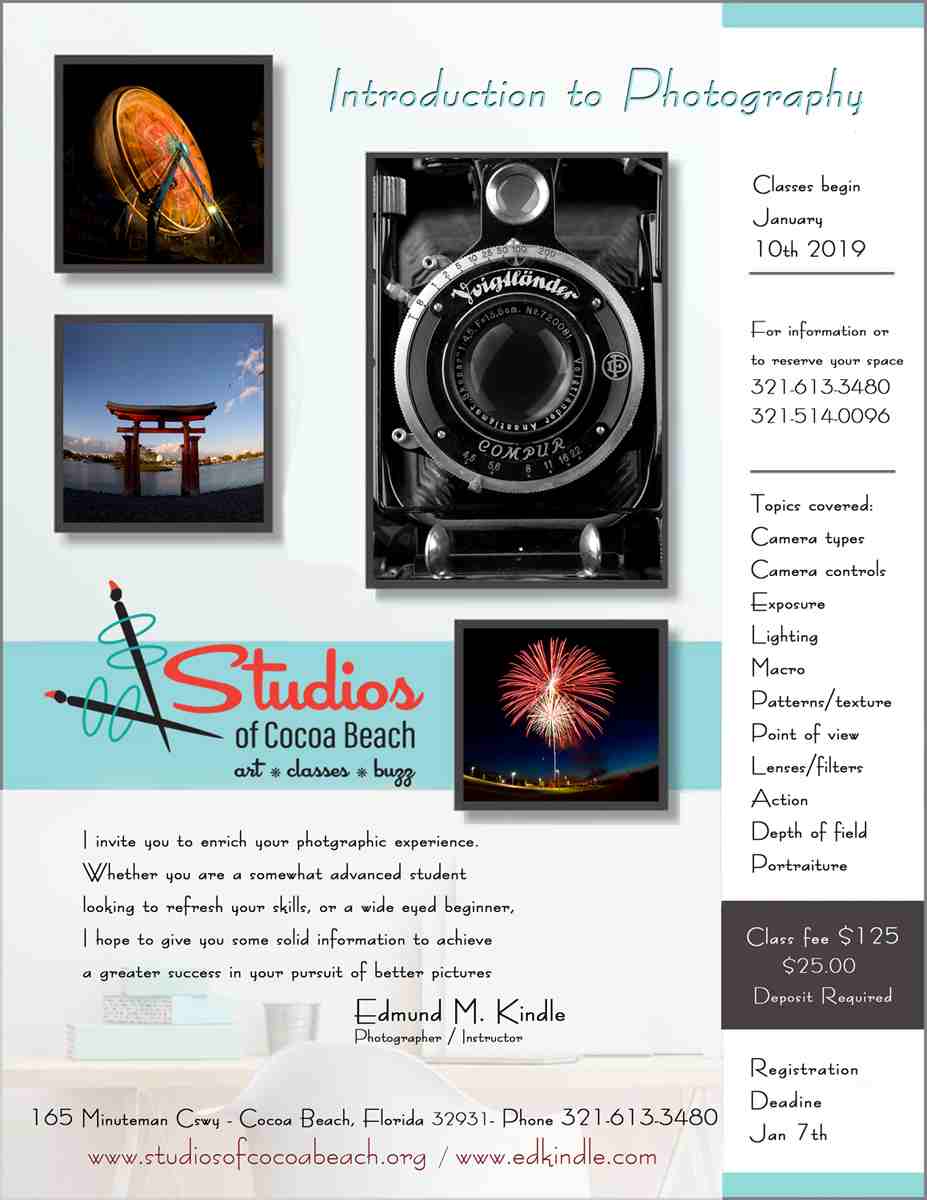 A primer for beginners or a refresher for a return to a wonderful hobby
I invite you to enrich your photographic experience. Whether you are a somewhat advanced student looking to refresh your skills, or a wide eyed beginner totally intimidated by all the is to learn, I hope to give you some solid information to achieve a greater success in your pursuit of better pictures.
Subjects covered,
Camera Types & Controls – Exposure
Lighting – Macro – Patterns & Texture
Point of view – Lenses & Filters – Action
Depth of Field – Portraiture & posing and more!
Classes begin January 10th, 2019, weekly for 8 weeks and will last approximately 2 hours per class. Try not to miss a class as they are packed with information! Classes will consist of lecture, demonstrations, materials given to students and plenty of question and answer time. If desired a photo critique may be added. Note taking materials and a desire to learn are all that is required to bring to the class. Feel free to bring your camera if you wish. Any camera will do. 35mm film, DSLR, rangefinder, even digital zoom point & shoot. All lessons are designed to help you learn to take better pictures. The choice of equipment is up to you.
Classes will be held in the classroom at The Studios of Cocoa Beach Gallery. Feel free to bring a beverage or light snack.
Your Instructor –
Ed Kindle is a retired photographer who trained at Edinboro University of Pennsylvania and is a past member of Professional Photographers of America. Ed photographed at, and managed the local photography studio and his experience includes weddings, individual and family portraits, high school seniors, high school sports, pets, location and product photography. Ed handled all phases of the experience from booking appointments and photo sessions, to ordering and sales.
In addition to his  studio experience, Ed also worked at the local pro camera store in Erie, PA, selling photography equipment to professionals and beginners alike and through that experience this class was born. Ed is now an art photographer for fun, but produces product photography nearly daily for his store's website and marketing materials. Ed also handles all the ad design for his business.
Ed and his wife moved to Florida in 2006 and after a diagnosis of cancer and his successful treatment, became a volunteer in the Titusville community. He is a past president of the North Brevard Historical Museum and the former North Brevard Lions Club, as well as a past board member of the Titusville Chamber of Commerce and a former Brevard County Historical Commissioner. In 2015 Ed opened Five Katz Antiques located in Titusville, FL which has celebrated it's third anniversary.
Registration info –
The class fee is $125 with a $25 deposit. Registration ends Jan 7th, 2019
For class information or to reserve your space call: 321-514-0096 or call The Studios of Cocoa Beach at          321- 613-3480 – 165 Minutemen Cswy –  Cocoa Beach, Florida 32931 – www.studiosofcocoabeach.org