Thoughts on a rocket launch & Covid 19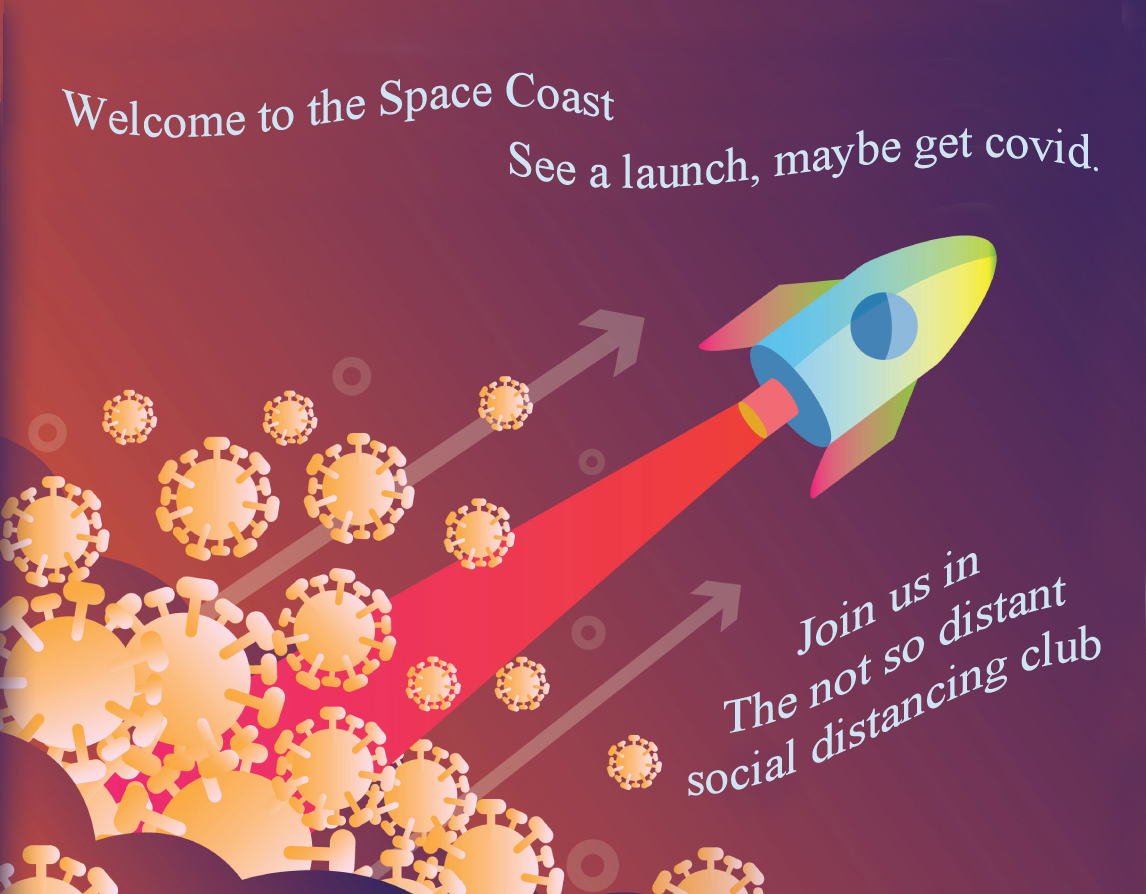 Letter to Mara Bellaby, Executive Editor, Florida Today
I read your article this evening about people questioning Tim Short's crowd photo of the launch viewers on the Max Brewer Bridge. As a retired photographer, and also having photographed past launches myself, I know it was un-manipulated.
Since it was announced that NASA & SpaceX were going to resume manned launches again with this launch on Wednesday, May 27th. the first thing I thought of was that we would have up to 500,000 thousand (or more), people in and around Titusville, who were coming from areas with high counts of covid-19 cases, and we don't even have everyone open yet. This would bring people here from all over Florida as well as from other states or even from around the world.
When Governor DeSantis commented and said this was a critical launch, the first thing I thought was "How can it be critical? There hasn't been a manned US launch in 9 years." "This is NOT critical."
I can't express how poor I feel the timing of this launch was. I might (and that is a very generous might…) be more willing to accept the schedule if the mission launch window was very critical and the next launch window would have been three years later, but We are talking about a launch to, and rendezvous with, the International Space Station, which completes 15.54 orbits per day (93 minutes per orbit). A delay would not, in my opinion have been mission critical.
Having been involved with local museums in the past, and being a huge fan and advocate of the space program, I was well aware of the potential for this event to draw a large crowd. I knew that the comments by NASA to stay home and watch the event on television would largely go unheeded and everyone would try to come. Then I was gob smacked when our own Sheriff Wayne Ivey broadcast for everyone to "Come to watch the launch, we can handle it!." He said. I still don't know what he was thinking.
We spent the last month and a half sequestered in our homes, our businesses closed, in fear of a virus. I was forced by the governor's mandate to close my own business for more than a month because I was declared a non-essential business. We were told to stay home and not to go out unless it was essential.
People had to have an assessment and have their temperature taken before they could go into their doctor's offices, they had to wear masks for entry into some business and many people have been attacked with protracted illnesses and many have died. It has been a 24 hours news items for nearly two months and surrounded by a raging debate, then this happens. Now it's not once, but because of the scrub due to weather, it will happen twice, and there is no guarantee it won't happen a third time if another issue arises. The crowds may be a bit smaller, but they will be there.
Knowing the size of launch crowds having worked in the middle of them in the past, I made the decision to close my business for the day, thereby avoiding the possibility of exposure to covid and also avoiding a two hour plus drive back to my home that normally takes 20 minutes. My and my families health is more important than making a few sales. I will also be closed this Saturday for the second attempt at launching this mission.
This launch in my opinion could have been easily postponed several weeks, months even with no real negative effects. It would have ensured that when the time was right, huge numbers of people could gather safely in support of the launch, the program, and each other. Instead, we may have an influx of new cases of covid-19 and could spark a new crisis in our area.
Then I read this evening that while restaurants are still expected to remain at 25% capacity, the Kennedy Space Center is fully booked and sold out (they claim it is a limited capacity) for the launch viewing this Saturday. To me, this is a blatant slap in the face to everyone who has been cautious and has taken this pandemic seriously. We have been doing everything to keep ourselves safe as well as helping to keep others safe.
I feel the standards are being unfairly applied. Yes, my store has been open for a bit now. But my store is small. I rarely have more than one or two people in at a time. My customers for the most part are wearing masks, and when I feel it's necessary, I wear one too. We are still working to keep each other safe. I see that other local leaders are still concerned as events that bring large crowds together such as fireworks displays for the fourth of July are also being cancelled.
I know that people want to get out and feel normal again, but I don't think this is the way to start. I now feel like I am nothing but a particle in a giant petri dish, and we are all waiting to see what is going to grow. I guess we will know the answer to this in a about two weeks.
Thank you,
Ed Kindle